Henry Munson remembers Dada - Henry H Lee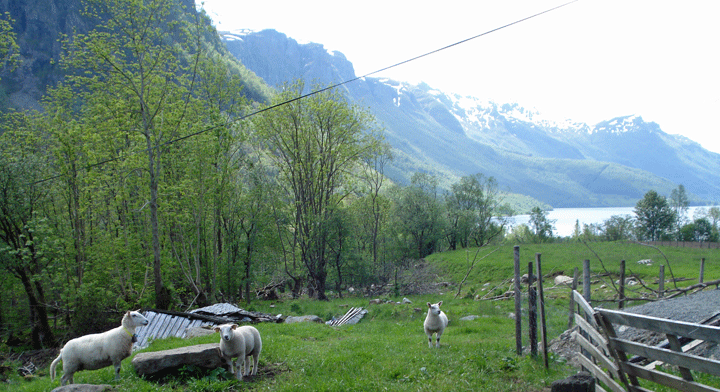 My grandfather, Henry H. Lee, hereafter called Dada, was born in an enchanting place in Norway called ETNE.  I visited it in 1974 and it is at the head of a beautiful Fjord and surrounded by majestic mountains.  [KMC note: actually a glacial lake not a fjord, click here for my blog post about my visit]
He went to sea at an early age and later was on the crew of one of the Tall Ships.  Once when sailing near Turkey he fell from the rigging on to the deck. He broke both his legs so badly that the ship's Doctor wanted to amputate both of them.  Fortun­ately, the Captain was a friend of Dada's family and he refused.  They packed his legs in ice until they could get him to a hospital where his legs were saved. He did have a slight limp but otherwise he was fine.
Later he jumped ship in Canada and got himself to NYC.  He started a Delicatessen store but when times got bad he was too kind hearted to refuse credit to customers who could never pay their bills and the Delicatessen store folded.
Next he started selling water to the many ships in the harbor and this did prosper. He gradually built and bought ships to expand his business - Hoisters, Tugboats, etc.  I am told his Hoisters carried the first cables across the East River when they built the Brooklyn Bridge, now more than 100 years ago. He bought a steam yacht that had belonged to President Woodrow Wilson's brother.
Previous page:
Lee Family Graves in Green-Wood Cemetery
Next page:
Henry Munson remembers Henry Lee