Kitty's remembrances of her parents at their memorial service
Thank you all for being here this morning. As most of you know, I am Kitty Munson Cooper, the oldest child of Larry and Gretchen Munson whose lives we are remembering.
Today is April 22; this would have been my mother's 92nd birthday. It is so very fitting to be celebrating them today. It was always their wish to have their ashes return to East Hampton and to the memorial garden here at St Lukes; so we are very pleased to be able to do that.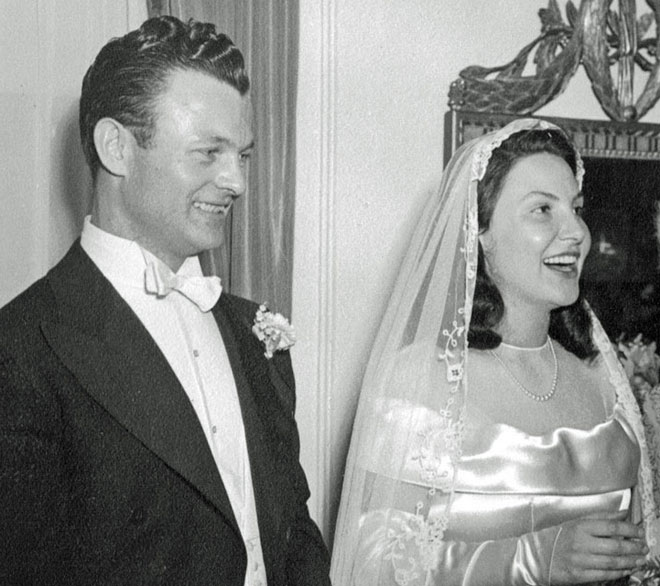 I was with my mother in Concord, Massachusetts when she passed away in 2009. She was 85 and died from sepsis following an operation for her ruptured ulcer. I was also with my Dad in Salt Lake City when he left us at 96; he was just too old and tired to fight off the cold that he had caught. Somehow dying on Easter Sunday seemed like a good day for such a special human being.
I want to share the two life lessons that I most remember from my parents. First my mother always told us "They can take away your land, your possessions, and your money, but they cannot take away your education."
She was extremely proud of the many degrees from great schools that were accumulated by her children and grandchildren.
Next my Dad taught me that it was important to give back by using one's god given talents for the benefit of others. His favorite quote was from the book of Matthew 5:16 "Let your light so shine before men, that they may see your good works, and glorify your Father which is in heaven. ...". He exemplified this in his own life in so many ways, perhaps most importantly to many of you, with his work for the East Hampton Healthcare Initiative.
But mainly I remember his loving nature, his charm, his cheerfulness, his love of music, and his ability to organize and get things done. He was much loved by the staff at the facility he was last in for those very qualities. Whenever I hear Wagner's Die Valkyrie I feel like I am with him again. I am extremely grateful to my brother for having it and other favorite pieces on his smartphone along with a good external speaker to cheer Dad on in his last hours.
I think that my father was more present in the lives of his children than many men of his generation. He took me to Yankees games, clamming, fishing, water skiing, came to some of my basketball games, and even played some golf and tennis with me. I don't think we ever won a match in the father daughter tournaments but we had fun all the same. My parents were very much in love for all 62 years of their marriage. She was his princess, although he called her "the field marshall," and he was her "binkie bear." My cousin Lee told me that Dad had said that Gretchen used to call him almost every afternoon at the office to tell him that she loved him.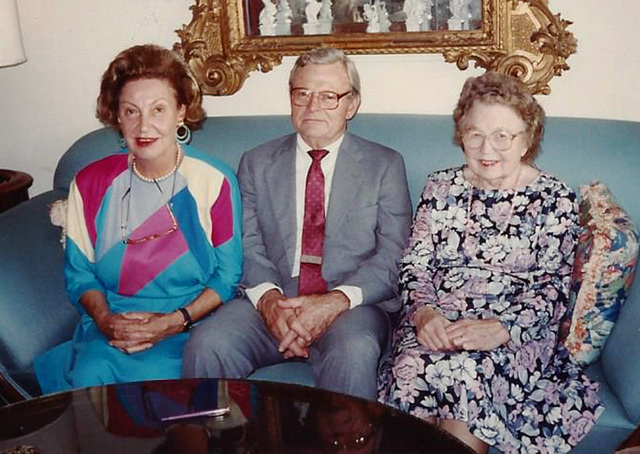 Gretchen, Larry, his sister Marian
I am going to share a few stories about my parents today, sent to me by our cousins. But first here is one from me.
My mother was a very competitive person, perhaps because she was the third of 3 daughters . While living in England back in the 80s, we would send our son Paul to her for a few weeks of the summer here in East Hampton. At the Junior Activities award ceremony one year, there was an enormous trophy for the best soccer player. When Paul did not receive it my mother accosted the JA director saying, "My grandson is clearly the best soccer player, why didn't he get that trophy!" She was told that only kids who had been in the program for 6 weeks were eligible. So she turned to Paul and told him that the next summer he was to come for 6 weeks! And yes we let her keep that trophy out here next to Shipley and my smaller ones when he won it the following year.
My cousin Marty and I both enjoyed antiquing with my mother, we would go to little out of the way places or thrift shops to look for "treasures." My cousin Marty, describes it this way, "Aunt Gretchen knew more about the history behind the bargains she was searching for than anyone … She would prowl around finding these things, all the while making pronouncements to my mother about what was just junk. I got the idea that there were real gems to be found, and would be delighted when I discovered a wooden box or small plate for my collections that got the sisters' approval." My other favorite thing to do with my mother was to go to an art museum or exhibit where her masters in Art History was at its best. Marty had this to say about being taken to the cloisters by my mother. " For hours she led me around, transfixing me with exciting stories behind the objects. It was a huge old castle with spectacular views of the Hudson, and I was transported to ancient times-the building was original and had actually been brought in pieces from Europe and rebuilt, which I loved. There were incredible illuminated manuscripts and gigantic tapestries. It was fantastic. .. for one day I was an art student with a magnificent tutor. She knew so much and made it so interesting. "
Many of my cousins sent me recollections of my Dad this past week. Some of you may not know that my Dad's mother was killed in a car accident in 1929, when he was only 9 years old. His oldest sister, Marian, moved back to Garden City from college, transferring to a local one, so that she could take care of him and her other younger siblings. He also stayed with her and her family during world war II when posted to Mitchell Field.
Marian's son, my cousin George, shared this about my him "Your Dad was a major role model to me. I clearly remember him living with us in Garden City. I remember him putting on his uniform each day and going to work at the base. He was one of the reasons I knew at a very early age that I wanted to fly as an Air Force pilot some day. I greatly appreciated Uncle Binks taking time out of his busy schedule to attend my graduation from Randolph-Macon Academy in June of 1959. I still have the graduation present he gave me. It was a leather case to keep cuff links etc. in. It traveled with me to the Air Force Academy and ever since.. What I remember best about your Dad was the fact that he was such a genuinely nice and kind person. He always seemed to have a smile on his face and always seemed to have a very positive outlook on life"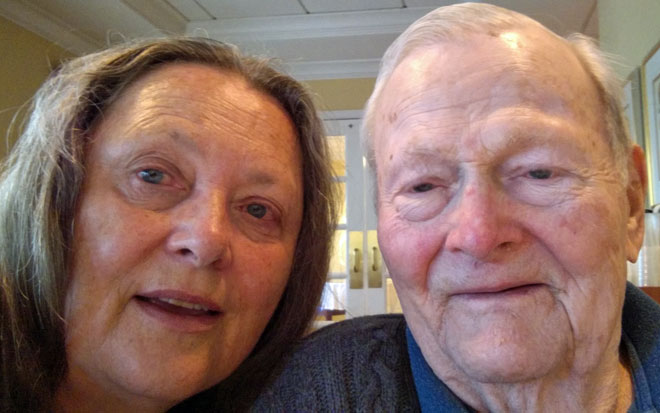 Kitty and her Dad October 2015
My cousin Lance said "Uncle Larry was a very wonderful man. The room would light up when he entered, suddenly there would be songs and laughter."
Cousin Marty's daughter Lindsay said, "  Laura and I were always so fond of him and he made us feel so special. We have lots of wonderful memories of dancing and singing with him. We always cherished our time with him." 
My cousin Susan who shopped for them and checked up on them in mother's final years said " I will always treasure getting to know him and your mom in their later years in Massachusetts. I so enjoyed reading your dad's memories of growing up in Brooklyn & Cragsmoore. It also gave me more of a glimpse into my grandmother "Wiggles" life! Thanks for sharing! "
My cousin Joe sent this  "I can't tell you how much it meant to me growing up, to have him in my life.  ...Some of the memories that I dearly cherish are Sailing off of Long Island from the Club, clamming in the many bogs, skiing at the Bromley House and later in the 1970s, sharing our love for the music of groups like Blood Sweat and Tears and Chicago ... We always looked forward to his visits and his wonderful sense of humor. His love for your mother was admirable."
And so they are together again, at last.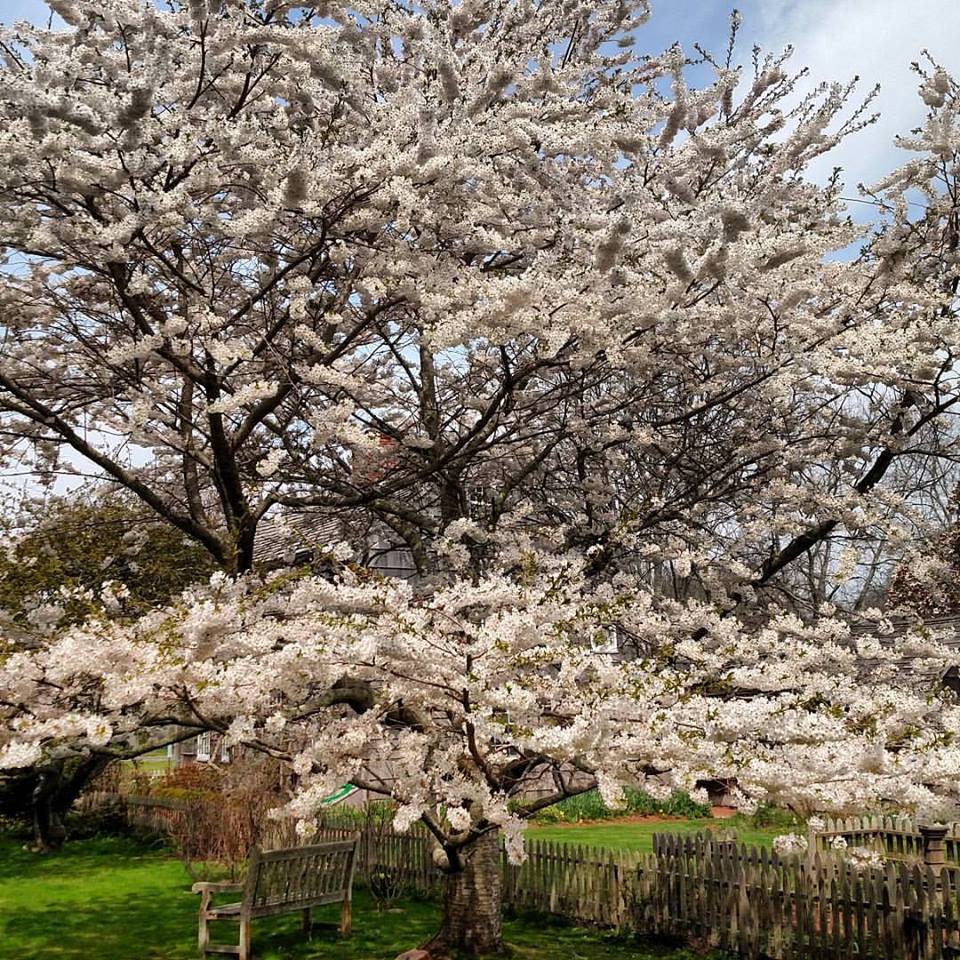 Previous page:
My summers in Cragsmoor, New York, 1920-1935
Next page:
Shipley's Remembrances at the Memorial Service, St. uke's, April 22, 2016