Shipley's Remembrances at the Memorial Service, St. uke's, April 22, 2016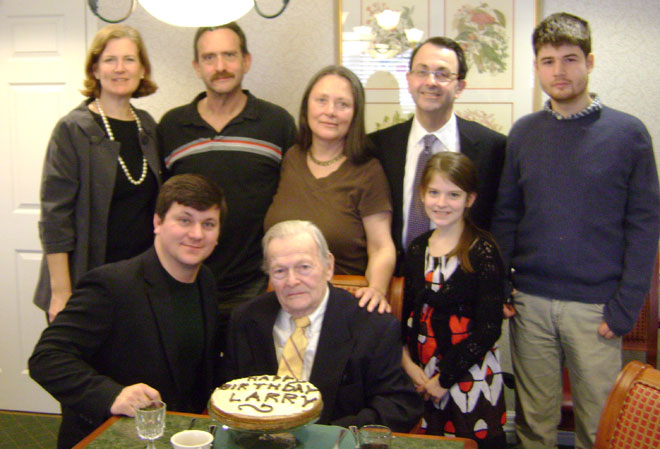 Larry's 90th birthday celebration: back Erika, Steve, Kitty Shipley, Joe - fromt: Paul, Larry, Nicola
I am Shipley Munson, Kitty's brother and Larry and Gretchen's son. My Mom and Dad were parishioners here for 40 years from 1962 to 2002. They retired to East Hampton after many years of spending weekends, holidays and summers here.
I thought you might be interested in how they got here in the first place.
Mom was a reporter for Art News magazine in the 1950s. One day she was assigned to review some new works by Jackson Pollack and Lee Krasner, before they became famous. So she drove out to the Springs to meet them and see what they were working on. Well … she didn't like their art very much, but she sure liked where they lived! She loved the air, the weather, the seashore—bay and ocean.
For Dad it was all about the golf. So he played Shinnecock, he played National, and he played Maidstone. In the end for him there was nothing like the West Course at Maidstone with its sand and water. I can almost hear his voice explaining that here in East Hampton, you just need to join one club. If you're in South Hampton, you need to join a Beach Club, a Tennis Club, and a Golf Club—too much hassle, too much money. And so the Munsons landed in East Hampton.
Dad loved St. Luke's. Whenever he could he would usher here or sing in the choir. He was a fairly religious man. As Kitty said, he did a lot of parenting for his generation. This included the nightly tuck in ritual. As I was falling asleep, he would always have a scripture for me. Most of them were from the Sermon on the Mount, as Kitty pointed out. I suppose that is how I got so interested in religion and the bible.
Mom was more conflicted about matters of the spirit. I remember her telling me about a business trip she took with Dad to Hong Kong. She was asked to say things she was grateful for at one of the group dinners. Oh my …. This was not her style. So this is what she did-- she quoted the poetry of John Keats—his Ode on a Grecian Urn, where this beautiful 2000 year old marble vase speaks across the ages saying, "Beauty is truth, truth beauty—that is all Ye know on earth, and all ye need to know." That is how Mom found her connection to the greater universe—through beauty.
Our thanks for the military honors.
Dad didn't say much about what he really did during World War II and the Korean war. If you asked him when Mom was around, Mom would answer for him with some amusing and exaggerated comments about the wild lifestyle in the Bachelors' Officers Quarters in Honolulu. If that didn't stop the conversation, then Dad would say he flew LMDs. Most people would stop there, embarrassed that they were not up on military acronyms. But if you pressed him and asked what an LMD was, he would say, "a large mahogany desk," and that was the end of the conversation.
But often those who come from the generation that has been called the greatest would, towards the end of their lives, say things to their grandchildren that they never revealed to their own children. In Massachusetts, one Thanksgiving, when Dad was sitting with me and my oldest sons, he finally said what he really did. He said, "I was a statistical officer. We worked often with my boss' boss General Hap A. Arnold. My job was to write a daily report. General Arnold wanted it this way: "To Franklin Delano Roosevelt, the White House. Disposition of Air Assets, Pacific Theater, and the date." All the planes that came back, their condition, trained pilots available. That sort of thing." Every day. For over two years.
 In that same conversation he counseled us to try to affiliate with world class organizations, wherever possible, like Harvard or McKinsey where he spent so many years. I think he would be proud that Paul works at the Millienial Generation's most desireable employer, Google, and Geddes counts Comcast, the CIA and Goldman Sachs as clients.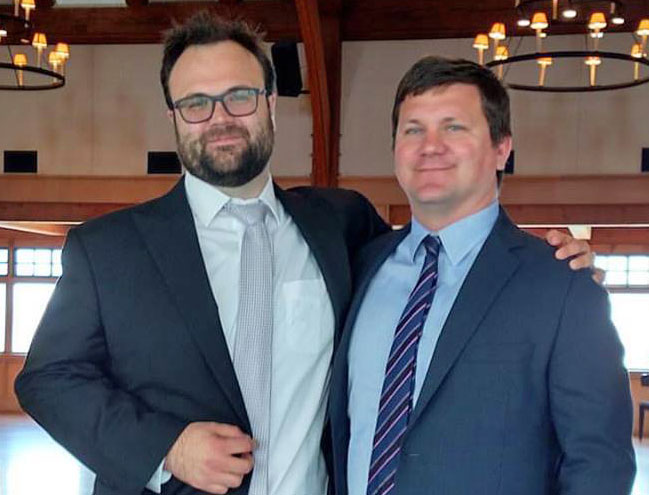 Geddes and Paul
There is a scripture Dad was fond of that sounds like it comes from the Sermon on the Mount, but doesn't. It shows up in the book of the Acts of the Apostles. Paul is preaching to the wealthy citizens of Ephesus, the third city of the Roman Empire, kind of like Rodeo Drive in Beverly Hills. Paul says, "Remember the words of the Lord Jesus and how he said it is more blessed to give than to receive."
And Dad was a giver. As I looked through his papers the day after he passed, I saw the original quality of life survey results that led to the healthcare initiative of the Village Preservation Society. I also saw the #2 problem was traffic congestion. I suspect if Dad had been able in mind and body to be here in the past fifteen, work would have already started on the East Hampton bypass! He would just work his way down the list.
Some of you may be curious about Gretchen and Larry's last years, when they lived near me and my family. Believe it or not, to take advantage of the benefits of an assisted living community, Gretchen agreed to give up smoking or at least smoke only in designated areas. Well … she almost made it for about a year. But she just couldn't do it in the end, so they bought a condo where she could smoke and brought in the help they needed.
About the time Gretchen died, my family and I moved to Salt Lake City. So Dad came out to live near us at Assisted Living. We were able to pick up a small tradition we had started when we both worked in New York City in the late 1980s. We had a regular two-hour lunch on Fridays at the Warwick Hotel, an equal distance from our offices. In Salt Lake City we would have our two-hour lunch every Friday at a restaurant called of all things the New Yorker, where Dad loved the oysters.
I think Dad even played a special role in keeping people together at his assisted living in Salt Lake City. About four years ago, to save money I had found another place for Dad with more space and my mother-in-law was on the Board. Well, his caregivers really did not want to lose Dad. He cheered everybody up. He made living a little better. So they essentially got approval for a discounted financial arrangement that would last indefinitely.
When Kitty and I finally arrived to be with Dad's during his last day, many of his caregivers were keeping vigil on their own time, already shedding tears.
As I reflect on Dad's life, Paul's words to his friend Timothy come to mind as Paul languished in a prison in Rome nearing his own end:
I have fought the good fight, I have finished the race, I have kept the faith. here is reserved for me the crown of righteousness, which the Lord, will give to all who have longed for his appearing.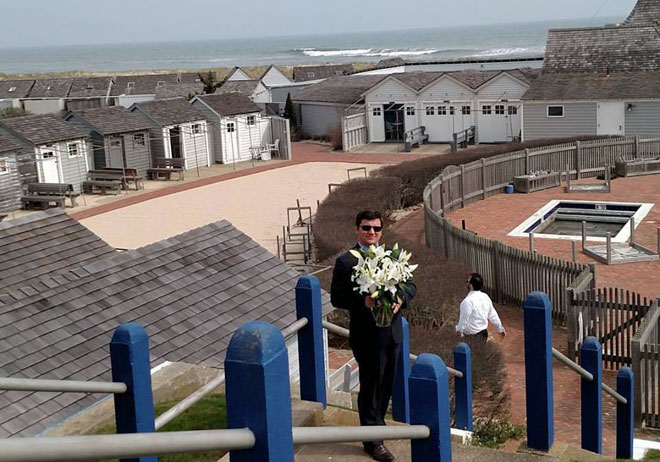 Previous page:
Kitty's remembrances of her parents at their memorial service
Next page:
L J Munson photos