Family History and Genealogy for the Munson, Thannhauser, and Larkin families
This is the family history site for the Larkin, Munson and Thannhauser families created by Kitty Munson Cooper and Richard Fessenden Larkin.
Each of our main family lines has its own tab above. Numerous other families are filed under the main family that they are ancestral to, as are photos and documents and some descendant family information, including some translated farm book entries from Etne (the Skjold family). The family trees are at WikiTree.com,  Geni.com and ancestry.com.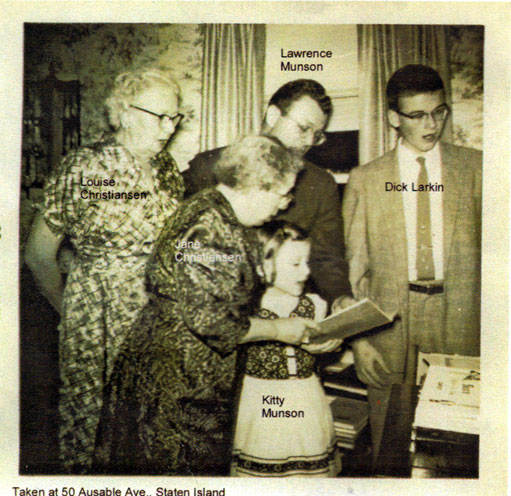 Most of the genealogy research on this web site is the work of Richard 'Dick" Fessenden Larkin. On his maternal grandmother's side he is a Norwegian Christiansen and Munson (originally Monsen). On his father's side he descends from early colonial American families including LARKIN and FESSENDEN.
Some research was also done by Lee Munson (the Etne Skjold family), Dr. Craig Stevenson (the USA Skjolds: Stevensons and Thompsons), Arvid Wold and Michael Wold-Steele (the Wolds), and Kitty Munson Cooper (the Thannhausers).
Most everywhere an ancestor is mentioned their name is linked to their entry at Geni.com so that you can see their relationships. Membership there is free. Our data was donated to Ancestry.com (of which I am an affiliate) as database 2043614 back in 2002 but that is not as up-to-date as the geni ancestry or Kitty's ancestry tree (not including Larkin/Fessenden data however).
The picture on this page was taken in the late 1950s on Staten Island. The next time the second cousins Kitty and Dick met was in 1997 at the funeral of Marion Munson Pasquet in Virginia. Kitty was very sad to have forgotten so many of the stories her Aunt Marion had told her and Dick infected Kitty with his love of genealogy and family history and so this site was born soon there after. And yes our family loves to sing and all the Munsons are quite musical.
Next page:
Site Map