Benedict Reiner and his ancestors
Siegfreid Thannhauser married  Franziska Thannhauser (Reiner) after a nine year courtship. This was partially due to World War I since he was a doctor at the front, but also due to the vast difference in their backgrounds. He was from a wealthy jewish family and she was from a middle class catholic family. They met at the 1909 Automobile Club Ball of which she was declared the Queen.
During WWI he wrote to her every day and his father Josef had to take his walk to pass by "that little stick" in order to have news of his son.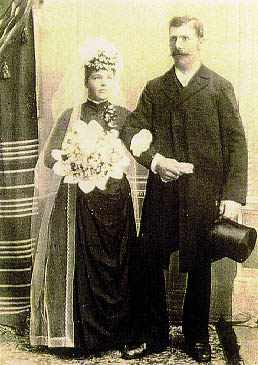 Fanny's father Benedict Reiner is said to have run away from the seminary to Munich where he became a contractor. The records show him as a builder, a "maurer." He liked to retire to his study and read Latin and Greek after dinner.
He met his wife Margarette Wittman, Retta, one a double date when he was dating the downstairs maid at the establichment where Retta was the cook. He asked the maid to provide a date for his friend for the fasching ball they were going to. That date was Retta and soon after he started to court her instead. Their wedding picture is to the left.
Family rumor is that he was the son of the priest back in Safferstatten where his mother was the heiress to a horse farm. But his birth record shows his father as an itinerant farm laborer was not not married to his mother.