Lawrence Josiah Munson
Excerpted from Marion Munson Pasquet's talk on video at the Munson family reunion 8/13/94 - transcribed by Kitty Munson Cooper
And then he [ Lawrence Josiah Munson ] had to go to school. He was six years old and had to go to school. There's another woman he'll never forget. The teacher said to him to write a row of nines. Well he looked at the nines - well that seemed easy - and he wrote a lot of loops and went back and put stems on them. She came and cracked his knuckles with a ruler. That wasn't the way he was supposed to do it. But she hadn't told him that, so he remembered her.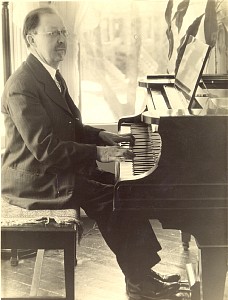 And he took piano lessons and was very good at it. His mother's family was very musical. His uncles played in military bands in Norway and the mother wrote the lovely grandmother's lullaby which was sung to several generations of children but I think it's been sort of forgotten. Well, I sent some copies around hoping somebody'd use them. [the lullaby is now posted on the page about Josephine Halling Monsen]

from Munsons by Alex Munson
Dad had a harmonica as a boy. Even then he evinced his destiny. His mother told him to play some nice church music on his harmonica, so the non-church going neighbors would at least hear part of a church service.
Frequently his mother would send him to his aunt, "Tante ( MMP: Ida )" on an errand of some kind. He hated to go, not knowing what kind of a reception he would get. Sometimes when he rang her doorbell she would come to the door and say, "Humph, If I'd known it was you I wouldn't have bothered."
Other times she would show much affection, and invite him in for tea. She would pour the tea and then say, "I hope it is warm enough," and she promptly plunged her thumb into his cup of tea. "I always had trouble drinking the tea after that," Dad would tell us.
by Lawrence J. Munson to his son Lawrence S Munson titled Munson saga III
My first musical instrument was a little mouth harmonica which gave me a great deal of pleasure, as I could play all the tunes I knew on it. From this I advanced to an accordeon which was easy meat for me. I remember on Sunday morning, my mother had me sit at an open window (in summer-time) and play hymns for the "non-church-going neighbors." Just how much good my musical missionary work did, I never learned – but I hope St. Peter puts it to credit! When I was eleven years old my older brother Christian bought a little house organ which was placed in the front room and excited my interest; - but alas the "children" were not allowed to touch it, so it was carefully locked! My brothers Christian and John soon learned to play hymns on it and one day my brother was trying to teach some visiting young ladies how to play the simple old "Jesus Lover of my Soul" with very poor success. After they went into the kitchen to have "afternoon coffee," I sat down and found the chords readily, of which I had made a mental note. And after that experience I was allowed to play, and soon lessons were arranged for me with Fröken Styhr (Miss Styhr) who was the choir director and organist of our church.
    She had been well schooled in the old Leipsic method, but did not know how to teach children, but I must have made some progress anyway, because she, as well as all our friends, insisted that I make music my vocation. From the very beginning it was easy for me to memorize, and remember the first time I played in public was at a Christmas-time entertainment, when I was unexpectedly asked to play a Christmas Carol. It happened that the Superintendent asked to have a certain Carol sung, and the organist did not have the music with her, so as a last resort she turned to me who was close to the organ and asked me if I knew it. I simply nodded my head and sat down and played it correctly with the children and parents all singing lustily – as they always do in the Norwegian churches. Miss Styhr recommended me or rather advised me to go to some New York Conservatory and take a full music course. She said there was one on 14th St. New York. Shortly after that my father took the old 9th Ave "L" to 14th St and walked along until we came to "The Metropolitan College of Music" where I was enrolled as an organ student, after the teachers had "tried me out" on the piano. Father's impression, as reported to mother, was: "Han tranger bare lidt parktis med benene." He only needs a little foot practice – meaning the pedal board of course.
To be continued if you are not bored
Love Dad
Previous page:
Christian Munsen
Next page:
LJ Munson diary