Family of Anna Skjold Thompson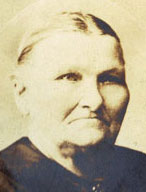 Anna Skjold Thompson (1843-1928) was the younger of H.H. Lee's two sisters named Anna, she came to American as a young lady and married John H Thompson (1845-1916) of Lisbon, Illinois, a Civil War veteran. They farmed first in Kendall county, Illinois then in Ford County where most of their descendants live today except the descendants of sons Ole (a school teacher) and Henry (a farmer) who moved to Iowa.
They had 7 children. Five sons lived to adulthood of which 4 had children. These are their children (linked to their Geni profiles):
Hans Olai Thompson(1873-1936), Severine M. Thompson(1872-1878), Oliver Thompson (1875-1952), Anton Amandus Thompson (1877-1953),  Ole John Thompson (1886-1952), Martin Thompson (1882-1891) and Henry Thompson (1884-1969).
Previous page:
Henry Munson remembers Henry Lee
Next page:
Anna Skjold Thompson from Dr. Craig Stevenson's History compiled 1984