Lawrence Josiah Munson's family
by Kitty Munson Cooper
My paternal grandfather, Lawrence Josiah Munson was born in Kristiansand and emigrated with his family to Brooklyn, NY when he was six in 1884. Their surname was originally Monsen but the spelling was later changed to Munson. Lawrence married Anna Georgine Lee, an American girl born to Norwegian immigrant parents. Her mother was Maren Wold from the Drammen area and her father was known as Henry H Lee in this country but born Hans Halvorsen Skjold back in Etne, Hordaland, Norway.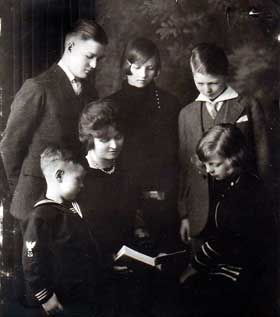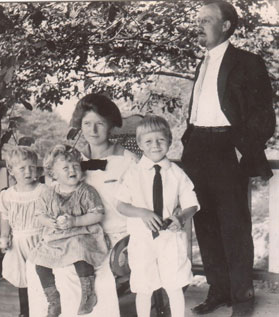 left about 1928: Top Row: Alex, Marian, Henry. left bottom row: Larry, Anna, Wiggles
right about 1912: Lawrence J and Anna with Alex, Marion, and Henry.
Norwegian naming practices are firstname patronymic then optionally, farm name. Thus surnames are not very useful for tracing family since they tended to change in every generation. Our Lee family comes from farms Skjold and Tveiten in Etne. Here is a good explanation of Norwegian naming:
http://wiki.geni.com/index.php/Patronymics#Scandinavian_Patronymics
cc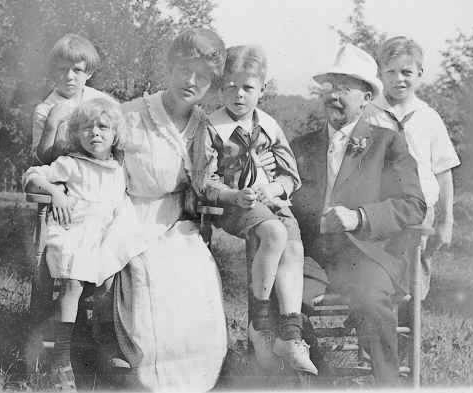 c. 1919 Marion, Wiggles, Anna Lee Munson, Henry, L.J.Munson, Alex
Here are documents and stories about Lawrence Josiah Munson and his family:
About Lawrence Josiah:
Diary c. 1900 of Lawrence Josiah Munson's courtship of Anna Lee (in progress)
Previous page:
Monsen and Munson Family Graves in Green-wood Cemetery
Next page:
Some Recollections of Mother (Anna Lee Munson)