Holland (Håland or Haaland) family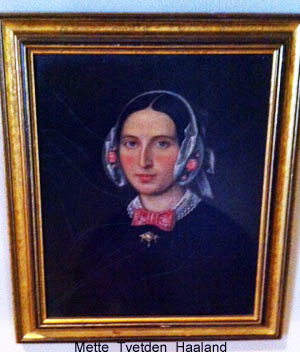 from Dr. Craig Stevenson's Stevenson and Skjold History compiled 1984
Sjur and Mette Tvedten Haaland (the aunt and uncle of Anna Skjold Fjæra Stephenson) and their nine children immigrated in the spring of 1846 and settled in Walworth County, Wisconsin.  That fall, Sjur and their infant son died of Typhoid Fever.  Mette was left to raise eight children from three to seventeen years of age.  She married Rasmus Dalen, a widower, in 1848.  They moved to Dane County Wisconsin and eventually to the Lisbon, Illinois area.  Two children were born to this marriage, Anna and Ingeborg.  Six of the boys, Ole, Amund, Christen, Syver, Bjorn and Haldor stayed in Wisconsin living in the Iowa, Dane and Green County areas.  They became prominent citizens with the town of Hollandale named after them.

Ragnhild, the Haaland's only daughter, married the first pastor of the West Lisbon Lutheran Church, Rev. Peter Andreas Rasmussen. Rev. Rasmussen was at the West Lisbon Church from 1854-1898, he baptized, confirmed, married, and buried many of our family ancestors. The West Lisbon congregation built four different churches during this time. The membership swelled so rapidly that a church would be built, out grown, and another built in its place. Finally in 1871 a church which could seat over one thousand people was built. This building was used until 1925, when it was destroyed by fire.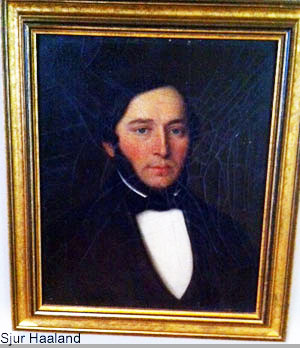 The people living in the area of a small settlement called Helmar, which was about 8 miles northeast of the West Lisbon Church, had built a church of their own. Most of our ancestors attended the church in Helmar then called the North Prairie Church. In 1901, the present Helmar Lutheran Church was built. However, until recently the Helmar Lutheran Church (North Lisbon) and the West Lisbon Church (South Lisbon) were considered one congregation. Rev. Rasmussen served both churches in the area plus a few others while he lived in Lisbon. He also started other congregations in Illinois, Wisconsin, and Iowa.

A second member of the Haaland family to have an impact on the community was Eric Holland (note the change in the spelling of the family name). Eric was a landowner, farmer, tax assessor, justice of the peace, road commissioner, trustee of the United Lutheran Church of America, and trustee and treasurer of pleasant View Lutheran College in Ottawa, Illinois.
Previous page:
Iver Asmund Stephenson from Dr. Craig Stevenson's History compiled 1984
Next page:
The Gundersen Family