The Rhode Island LARKIN family
Descendants of Edward Larkin of Newport Rhode Island
by Richard Fessenden Larkin
Richard Fessenden Larkin
's research and genealogical documents are available on this site -- here is the list: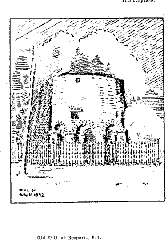 The document "Larkin Families of Early New England" is a short writeup of the two Edward Larkins and possible relationships between them
The three Larkin Chronicles - One and Two are images; Three is word text. The illustrations for # 3 are also images.
There is also a photo of my grandfather, William H. Larkin, Jr., author of the Chronicles. (This image has two photos - William Jr. on the left, and his father, William Sr. on the right.)
The six documents, "larkindescXX.ppt" are the (now) six pieces of the big family chart. Print out all six and paste them together lengthwise to see how we are all related. Each page is numbered; assemble them with Page 1 at the left. Trim off one edge of all but the last page so the horizontal lines will run together smoothly when the sheets are slightly overlapped.
Richard Fessenden Larkin
click to email me
Previous page:
Contact Us
Next page:
Larkin DNA