World War I service and photos by Siegfried J Thannhauser
As a Bavarian, initially my grandfather and his family thought that the war that started in 1914 was a Prussian war and nothing to do with them. However, soon Bavaria got involved as well. The family story is that Siegfried's father, my g-grandfather Josef Thannhauser sold his beermug-lid-making factory to the Bavarian government because he did not want to make bullets. So he became head of the Munich red cross during that war. However we have this militant picture of him with the king entitled "Official Postcard: Spoils of War Exhibition, Munich, 1916"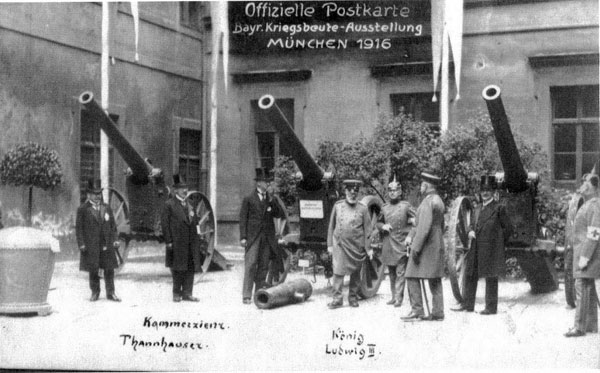 During the World War I, Siegfried served as a medical doctor at the front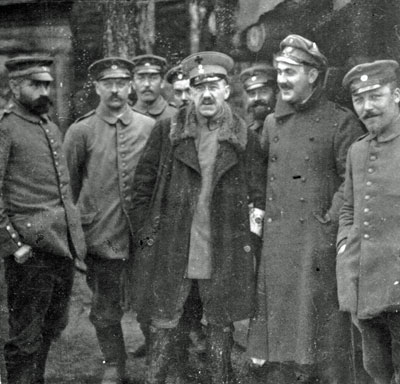 in the Vosges mountains on the border of the Alsace and France. His father Joseph was the head of the the Red Cross back in Munich.
Here is a photo from a visit Joseph paid to his son dated 1916; Joseph is in the center with the dark coat and the red cross on his cap. Siegfried is the tall one next to him on the right with his collar turned up.
Siegfried received the iron cross for his heroism. While picking up wounded soldiers under fire his driver was killed; he continued to pick them up and drove them back to the field hospital himself (this meant drivng the horses I think).
A hobby of his was taking photographs and his family have the two wartime albums he made. A friend of his great-grandson Bera digitized these and they can be see on her website in these three posts:
 Also Ancestry.com has many military records including this one for Siegfried from the Bavarian State Archives in Munich. Click on the image to see the full page (he is number 63):

This appears to be a record of his World War I service, the date at the bottom of the page is April 1, 1918 (day - month - year is the custom in Europe). It says that he enlisted on August 8, 1914, his position was Oberartzt (head doctor), Isrel is under religion, profession looks like assistant professor of stomach ailments. Our Oma is listed as his wife, with her maiden name, Franciska Reiner (they were married on February 16, 1918 in Munich, Germany). His father's profession is Kommerzienrat with name Josef Th. The little cross next to his name means that he is deceased (he died January 28, 1917). Siegfried's mother listed simply as "Lotta" Langermann.
Previous page:
Brueder Thannhauser Beer Stein Company
Next page:
Siegfried J Thannhauser