The Skjold Family from Etne, Norway
  The Skjold family comes from farms Skjold and Tveito in Etne, Hordaland, Norway which is between Bergen and Stavanger along the South West coast of Norway.
When Lee Munson visited in the 1960s he took a ferry from Bergen to get there. These farms are right next to each other (click on their names to see them on a google map) along the Stordalselva, the stream that fills the Stordalsvatnet (a large lake). They are marked by the two red dots between Vinja and Frette (more family farms) all the way to the right in this contour map from the Visit Norway web site which says of Etne - "Etne is Sunnhordland's agricultural district par excellence, known for its fertile earth, surrounded by mountains, fjords, rivers and idyllic islands."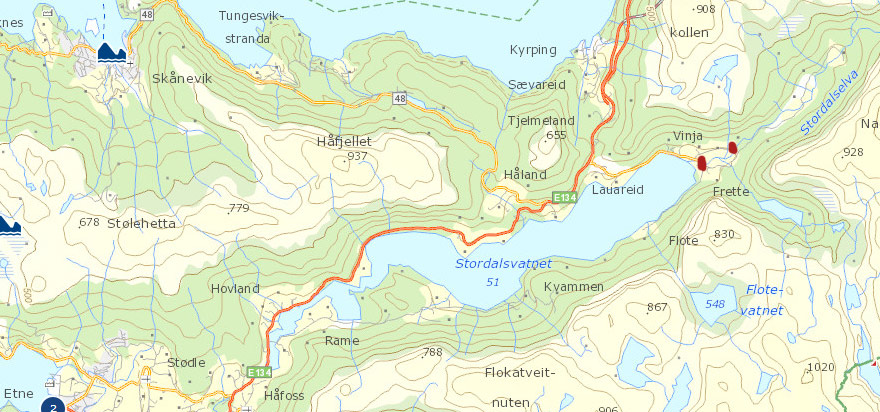 A cousin spent some time playing at google maps and said of the farms in our family lines, "Lussnes, Overness, Nernes, Sande, Frette, and Hovland farms are all along the shore of the Stordalsvatnet, a large lake. Hovland, Hoyland, Austrheim (Ostrim), and Fossa are on the Etneelva, the stream that drains the Stordalsvatnet and Litledalsvatnet into the Etnefjord. Gjerde is just by Etne town (be sure to include 'Etne, Norway' at google maps because a lot of the farm names are also the names of towns far from Hordaland)."
Our Norwegian relatives use the surname Skjold, but in the USA, the only male immigrant changed his name to Henry H Lee while his sisters who emigrated used their husband's names, Stephenson and Thompson. So three of the eight surviving of the ten children born to Halvar Gottskalksen Ostensen Skjold and Marta Aamundsdotter on farm Skjold in Etne, Norway came to America.
 These are the eight children, linked to their GENI profiles:
a. Anna born 1832 married Lars Fjære Stephenson and went to America
b. Åmund born l834 inherited farm Skjold
c. Øystein born 1836. d.l9()6 farm Osnes
d. Gotskalk f.|839. utfl.l865 til Stord, sidan Amerika
e. Anna born l843 married John H. Thompson and went to America
f. Margreta born 1846,married over to farm Innbjoa in Ølen
g. Hans born l849. went to Amerika where he was known as Henry H. Lee
h. Hallvard (Halvor) born l852, was a shoemaker in Stord
The son of sibling Margareta Skjold Innbjoa came to America to work for his uncle H.H. Lee and he used the surname Gundersen. Those cousins were found with DNA testing.
At the end of July every year the Stevenson cousins host a Skjold family reunion in Illinois.
Our Skjold relatives in Norway live in Bergen, Stavanger, and various places in Etne but the farm was sold out of the family in the 1990s after Odd Skjold died. The Skjolds still own farm Øyno further up in the mountains which they use as a vacation home. Click here for pictures from Kitty's visit to them in June of 2015 and here for more photos. 
 Below are links to translations of the Farm Book entries for the Etne farms where (Henry Lee) Hans Halvorsen Skjold's ancestors lived (our ancestors' names are bolded)
 

Farm Skjold in Etne 2010 visit by John Quinn
Some excerpts from the description of the Skjold farm from the translation above "Skjold (pronounce skjoll) the piece of armor called a shield, is used as a place name. Most frequently, names of this kind refer to open, flat or round forms in the landscape. ... In the Middle Ages the farm belonged to the bishop in Bergen. In 1537, it was crown land. Then the king sold it in 1662, the lease holder purchased it and became its owner. The farm, on the whole, has remained in ownership since then. ..."
Our first ancestor who owned Skjold was Gotskalk Johannesson (1681-1744) when he died the "estate included among other things an eight-oar boat and a boathouse near the lake and a four (or six)-oared boat in the water. A tenant farmer's house stood on a meadow at Skjold. The herd consisted of 16 cows, 5 oxen, 14 calves and heifers, 31 sheep, 32 goats, 10 pigs and 4 horses. "
Our next ancestor who owned Skjold was Gotskalk's grandson  Gotskalk Halvardsson, (1735-1802) who was the son of  Gotskalk's daughter Anna Gotskalkdtr Tveito. He was a renowned bear hunter and was important in parish government.
Previous page:
The Skjold family
Next page:
Skjold farm as translated from Etnesoga II