His Early Years in America
from "Dadda" by Alexander Lee
   In 1869, when he was seventeen years old, he [H.H.Lee] jumped ship in Chatham, New Brunswick, Canada, and changed his name to Henry H. Lee. He had 75 ? in his pocket. He found employment in a plant where balsam was manufactured, and then in a steamy tanning plant. The balsam was for medicinal purposes, and the tanning of raw hides was for making leather.
   After three years in Canada, he journeyed to New York, at the age of twenty. With his record as a seaman, he had no difficulty getting a job as a member of the crew of a pilot boat. This was before the Pilots Association was organized, when individual pilots raced out to meet incoming vessels at the risk of losing their lives and boats – using tricks of seamanship which the world no longer knows, except in yacht racing. Then he got on the lighthouse tender, Fern. He boarded at a house at Rector and Greenwich Streets. His wages were better than he had ever known, and his lodgings were comfortable.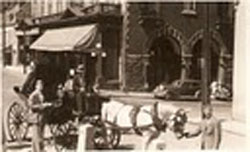 To this house in the care of the captain of a vessel from Jacksonville, Florida came a lovely Norwegian girl of his own age, Maren Wold. She, like himself, had been in the United States about five years. She had been working in Florida, but had found the climate there too enervating for her Northern blood. She had determined to find employment in New York. When she asked the captain of the ship on which she was a passenger to direct her to respectable lodgings in New York. He put her in the care of his married quartermaster who lived at the Rector and Greenwich street house. There she met Henry Lee, and he met her. It was a whirlwind courtship. He was a strong, attractive young Norwegian man with deep blue eyes and unruly light blond hair who was determined to succeed. He was somewhat short in stature, possible due to his harrowing experience of his broken legs. But the chemistry was very right. Within a short time they were married.
   The young member of the crew of the Fern had developed a big business idea out of the Fern's official business – the taking of fresh water and other supplies to the off-shore lighthouses and lightships. Henry Lee, having taken himself a wife, bought himself a ramshackle sloop and became a water tender to the ships anchored in the large harbor. He was obliged to take on one Rasmus Helwig, as partner, to raise enough money.
   "The partnership did not last long," he said later, with a twinkle in his blue eyes under his white eyebrows, and joggle to his stocky little frame.
   "It was not possible to make Rasmus understand that a water tender carries water for drinking purposes, and that those who run a water tender should sell no other liquids.
   After that he bought a steam water tender. His deliveries were prompt and his water was good. He had another partner who was also dispenses with.
   "It has always been my conviction that partners should not only share the profits, but share in the work," he would say. "I found that my new partner thought only of sharing the profits," he said. "After that my only partner was my wife."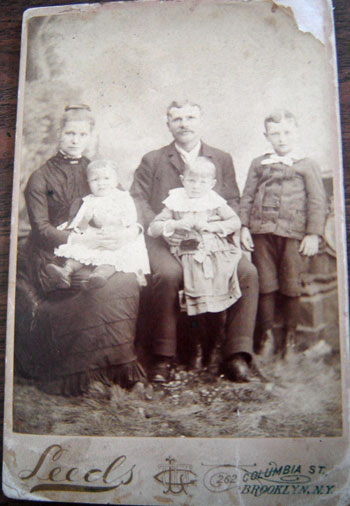 Some years later, his wife, Maren persuaded him to start a business ashore where there were fewer hazards. He had had a close call a time or two in bad weather, with his boat.
   He bought a grocery store in downtown Brooklyn and did very well in the Scandinavian neighborhood. He was well liked and made many friends. His daughter Anna was his cashier. She was sharp and accurate, and her good looks brought many male customers.
   Then came a depression. Many of his friends and customers were out of work. He didn't have the heart to force payment of their grocery accounts.
   "They still have to eat," he said.
   He decided that he would never get rich in the grocery business.
   The Brooklyn Bridge was nearing completion about then. Lee was fascinated by the small rugged barges which had a steam winch for hoisting steel and other essentials up to the roadbed of the bridge. A boom and tackle was rigged on the bridge with steel cables coming down to the hoister barge.
   "What would happen to the steam winch-on-a-barge when the bridge was completed?" he asked himself.
   He kept in close touch with the bridge progress and became acquainted with some of the foremen on the bridge work who helped provide him with inside information. He wanted those hoister barges.
   As quickly as they became surplus, he bought the barges complete with steam engines and large winch drums. He made any needed repairs and painted them a bright red. He was ready for business. He could hoist cargo in and out of the ships at anchor, or from ship to wharf. He visited the offices of shipping companies many of which were near the battery at the foot of Manhattan. He set up an office on the eleventh floor of 44 Whitehall Street, from whose windows he could watch much of the harbor activity.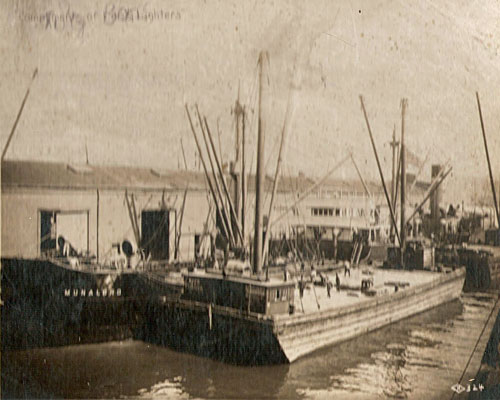 It was a new idea. He was a very good salesman.
   He soon had more business than his two hoisters could handle, so he had two more built, and then two more. He soon had a fleet of hoisters. He had had to purchase a tugboat to tow his barges from one location to another. Then he had to buy several barges. These permitted the discharge of cargo from the ship to barge, or from barge to ship. He needed derrick lighters, so he either bought them or had them built. When the tugboats were not busy, he used them to take incoming ships to dock, or to tow them from their dock, through the big harbor, and headed for sea. It usually required two tugs for the initial maneuvering.
   When first married they lived on Conover Street in Brooklyn in rooms that cost them $7 per month. Then they lived at 446 8th Street in Brooklyn.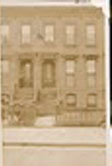 Henry Lee and Maren Wold had seven children four of whom grew to adulthood, married and had children.
   ( MMP: In 1914 ) Henry Lee built a large home in Hempstead Gardens, Long Island. He was a gentlemen farmer, with a flock of chickens, cows, horses, hogs, and pigeons.
   His first grand child was Alexander, who renamed him DADDA, and his wife MORMOR. That was me. I loved them both very very much. His two sons, and my uncles, Henry M. Lee and Herman Lee eventually bought out Dadda and became Lee & Simmons and Lee Transit Co., respectively. Great people all of them.
   His older daughter, Anna (my mother) married Lawrence J. Munson. They had five children: Alexander, Marian, Henry, Louise, and Lawrence Shipley.
   Alexander married Bertha Louise Geer. They had six children: Alexander Lee, Claire Louise, Andrea Lee, Jeannie Anne, Lawrence Henry, Karen Geer.
Previous page:
His Time at Sea
Next page:
Trips Back to Norway