Titland Farm in Hordaland
The bygdebok for the Alenfit area of Hordaland (North of Bergen along the fjord that connects to Bergen) describes the Titland farm where the earliest paternal line Monsen famly lived (see my blog post on finding Lars Monsen's family for more on this). This photo is from that book, "Bygdebok for Alenfit" volume 1 by Nils Hjelmtveit 1963.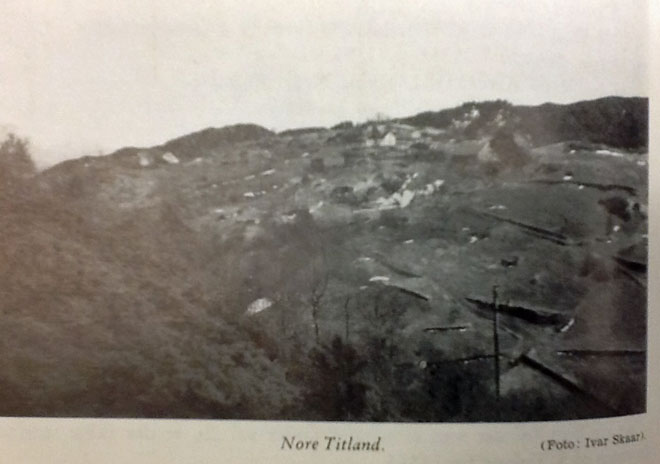 My understanding is that Titland means high ground or something like that. Our oldest known ancestor who farmed Nore Titland was  Mons Knutson 1665-1725 and wife Maritte Matiasdtr Skare daughter of Matias Monsson Skare and Anna Ellingsdtr Skare.  Their son, Ola Monssen a drummer married the widow of Aastvedt farm over in Aasane, Hordaland.
A Norwegian cousin read the North Titland entry and said this about it:
It says that the farm Nore Titland was part of Nonneseter Abbey estate. Vincent Lunge got this as a gift from King Frederick 1 in 1528. But the farm has not been farmed. It was deserted until 1648. Then Axel Mowath, a Scottish nobleman, took over the farm.

The farm Nore Titland was run by different farmers until 16 October 1726. Then it was sold to Aamund Olson Vatne and Elling Monsson, half to each.

The book also says that they do not know who the father of Mons Knutson are.
Previous page:
Lewis Munson (Lauritz Monsen) Pedigree
Next page:
Åstveit or Aastvedt farm in Aasne, Hordaland