Hans Halvorsen aka Henry H Lee and family
Hans Halvorsen (1849-1931) was the progenator of our Lee family. The story is that he changed his name to Lee so it would fit around the smokestack of a tugboat. And Henry is the American version of Hans. He is listed in various documents with numerous variations on these two names. Sometimes including Hendrik. He was known as Dada to his grandchildren.
Click here for a charming account of the life of Henry H Lee  written by his grandson Alex Munson and click here for his family tree at family search.
Here is a summary of what we know about H.H.Lee

Hans Halvorsen was the second youngest of eight surviving from the ten children born to Halvar Gottskalksen Ostensen Skjold and Marta Aamundsdotter on farm Skjold in Etne, Norway. He was orphaned at the age of 9. He worked as a sheep herder for a year but then his oldest brother Amund Halvorsen Skjold (whose descendants we are in touch with!) took him in and helped him fulfill his dream of travelling to far places by helping him get a post as a cook on a North Sea herring boat. At fourteen he qualified and became a member of the crew of a sloop in the Baltic.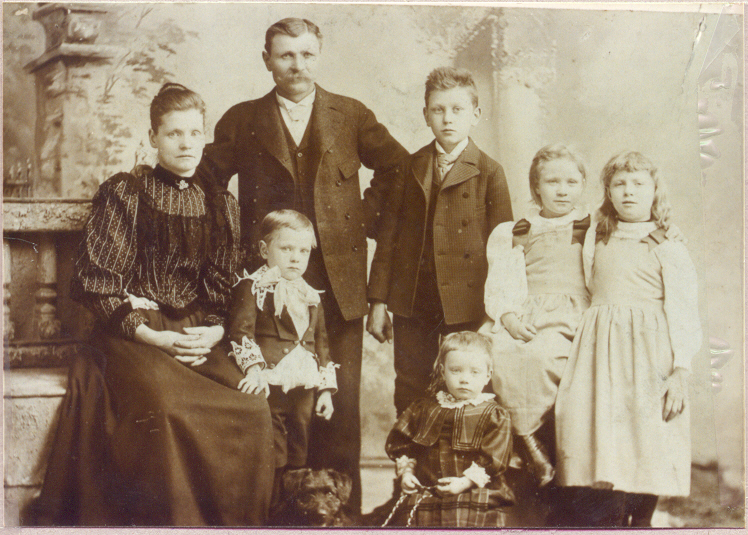 Lee Family in 1894, top: Maren Wold Lee, Henry H Lee, Henry Martin Lee,
Maria Magdalena "Helen" Lee, Anne Josephine Lee,
bottom: Herman Hjalmar Lee, George Lee
After many travels and adventures he jumped ship in Chatham, New Brunswick, Canada, in 1869, when he was seventeen years old. Three years later he made his way to New York City and got lodgings at a boarding house located at Rector and Greenwich Streets in downtown Manhattan. This was where he met his future wife Maren Wold who had come there from Florida, where her family had gone, but it was too hot for her there.
Henry H. Lee was an American success story rising from harbor pilot to a very successful businessman owning harbor businesses. He lived mostly in the Norwegian enclave in Brooklyn but in his later life he built himself an estate in West Hempstead NY complete with sheep!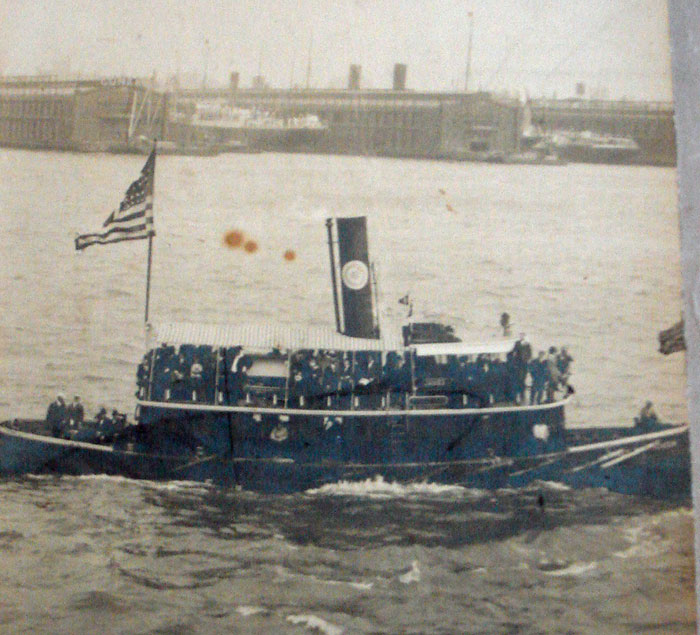 The Lee tugboat

Other documents
We have a newspaper article (to be scanned and put here soon) written about Henry H Lee on one of his many returns from a trip to Norway. One of the stories told about him is that when the customs officer tried to charge him duty on the Norwegain balnkets he had brought back with him he complained and said "But the wool was from my sheep here! I just had it woven there."
Previous page:
Skjold lineage
Next page:
Lee Family Photos