Fatland Farm, Kvinnherad V
Farm Fatland is next to the Arnevik farm on the Island of Halsnøy. I think it is where the star is in the google map below. Note that the lake Stordalsvatnet, in Etne, on which most of our ancestral farms are, is towards the bottom right of the image.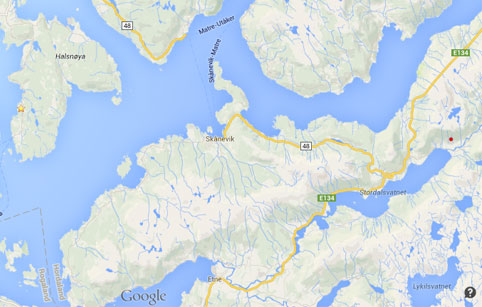 Translated excerpt for farm Fatland
 from Kvinnherad V by Anders Havnelid, 1992
(via google translate and help from cousins Frode and Berit)
---

    There are tangible signs that the Scottish trade and other timber trade was an important part of the economy, here as in Arnevik .

    An expression for the value of the forest and the sawmill we see in the book 1768. It is stated that the farm from time immemorial had a sawmill with permission to cut 400 table boards annually, half to export, and when the farmer, Hans Olsson, asked for a witness things that forest could sustain an output of 600 table boards annually .
 
In 1723 Anders sat Fatland with the Fatland farm. He kept 2 horses, 19 large living cattle, and 24 sheep. He sowed l / 8 t barley and got 3 barrels in return again, and oats sowed his 6 barrels, which gave 24 barrels in return, ie four-fold , which is not impressive compared to the ordinary then. But he clearly had discovered that it was expensive in the long run to the wharf beer of Scottish malt, so he was then among the few who sowed their own barley.

    In 1802 the farm was still whole and undivided .

    Hans Olsson kept two horses and farm fed 14 cows and 20 sheep. He sowed oats 4 hand l / 2 barrels potatoes, which gave it in return 32 barrels and the sawmill was still a part of the industry .

    It was a crofter with one cow and four sheep.

    1865 farm divided into two self- use , and there were 6 smallholders with soil.
 

1 Ola Hansson, 1696-1772, married Brita Monsdotter (nedre Aksdal) (2), 1701-1783,
bought one part of the farm  Fatland and was registered self owner 1733. Ola was the son of Hans Olsson Brekke in Granby and mother Anna Katharina Rieber. Ola grew up on Unneland Ulvik, where his parents lived. He came to Fatland by a switch of farms in 1724 between himself and his brother Anders, who at the switch got the family farm in Ulvik.
 
Ola Hansson was eventually a very well off man. Mora (his mother) was the daughter of the daughter of Laurits Johannesson Galtung on Torsnes. John (Johannes) was for some time a time bailiff of Halsnøy monastery goods and Hardanger County. Laurits was a large land owner, and some of the heritage of Ola Hansson had probably originates in the legacy of his great grandfather on Torsnes, and grandfather, Reverend Anders Andersen Rieber in Eidfjord.
 
Here in the district Ola owned farms Fatland, nedre Aksdal, Østhus, Kambe and southern Sydnesplassen. These farms he gave  in turn and order by donation letter to his sons and daughters and their husbands.  

The children were:

a. Anna Katharina, married Erik Endresson Habbestad, a time Covenants at the vicarage, but later resident in Finnås, and their son, Mons, got nedre Aksdal
b Signe, 1730 , married Sexton Ingebrigt Hammersland, got Østhus which they deeded to son Simon,
c Mette, 1735, married Bjorn Pedersson Aksdal, Etne, resident of Ve [Ed note: this is the ancestress of the Skjold and Holland families]
d Mons, 1736-1762,
e Brita, 1737 -, married sexton Hans J. Althand, og oppattg m løytnant Jakob Weltzin, og desse fekk Kambe, f Hans, busett på Fatland, g Ola, busett på Sydnes, seinare i Fitjar.
[Ed note: rest  of translation by Odd Braathun found on rootsweb norwegian mailing list]
2. Hans Olson, 1740-1830, married to widow Lisbet Jonsdotter, 1742-82, got the deed from his father in 1762. In 1791 he married Ingeborg Kjellesvik, 1742-1823. Ingeborg's mother came from the "upper class" as her parents were Captain Peter Lillienskiold and Dorotea Bagger.
Children after Lisbet:
a. Anna, b. 1764
b. Severina, b. 1765 (female)
c. Ola, b. 1768, married to Birgitte Larsdotter, 1771-1821, and Anna Katrine Monsdotter nedre Aksdal, b. 1790. Got the deed on half of the farm in 1813. 11 children with the 2 wives. d. Erik, b. 1769
Children after Ingeborg: (the book has an error and repeats Lisbet)
e. Peder Lillienskiold (no DOB/DOD) - he is obviously Peter Hanson below.
f. Ola, cotter, married to Siri Olsdotter. A son Ola b. 1833
Page 302
Fatland bnr. (unit ) 3
15. Peter Hansson, married to Anna Jonsdotter, 1789-1868, got 1809 the deed on half of Fatland while his father was still using the other half.
Children:
a. Ingeborg, b. 1817, married to Torstein Trondsson Arnevik
b. Kari, b. 1821, married to Johannes Johannesson Hillestad
c. Hans, b. 1824
d. Dorte Marie, b. 1827, married to cotter Hans Andersson in Kalvatræ, to USA
Source: Anders Havnelid. Kvinnherad volume 5
Page 305 Fatland

Cotter's place Kalvatræ or Fatlandstræ
37 Hans Andersson Kjeka (28a, b. 1822, married to Dortea Marta Marie Pettersdatter Fatland (15d), b. 1827, leased this place 1849. They called it Mariaplasset after his wife. The entire family emigrated to USA, but Hans only got to England where he is buried.
Children:
a. Kari Marie, b.1849,
b. Petter b. 1850
c. Anders b. 1852,
d. Hans b. 1855
e. Anna, b. 1857,
f. Eivind b. 1860
g. Jonas b. 1862,
h. Ola b. 1865
i. Ingeborg Serine b. 1867
j. Amund b. 1870
[Ed note: these last folk became the Wisconsen Fatland family, there is a different Fatland family in the same area descended from Ole Ingebrigtsen Fatland who is not related to the above Fatland family but is from a different Fatland farm]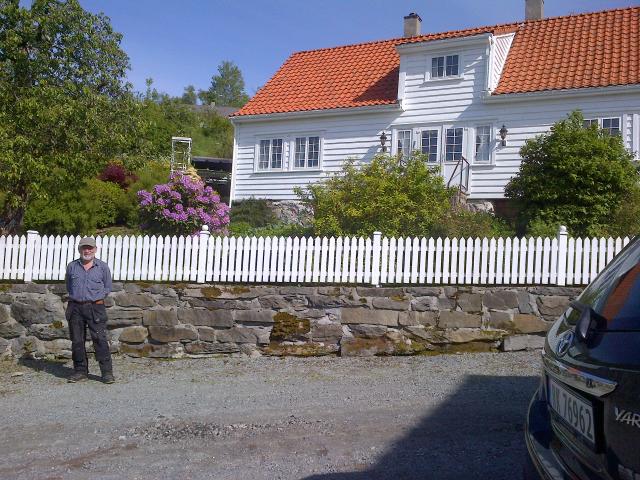 Lars Ingamund on the Fatand farm in front of original farm house, June 2015 (click for more photos) 
Previous page:
Frette Farm, Etnesoga II pp 426-428 translated
Next page:
Skjold lineage