Tveito Farm from Etnesoga II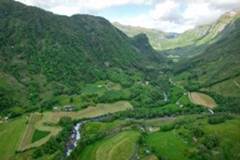 For an account of Kitty's visit to Tveito in June 2015 read that story on her blog.
This document is from Lee Munson's research. It was translated from the Etnesoga II Norwegian farmbook. It has been scanned in and I haven't corrected all the resulting errors. As usual the ancestors of Henry (Halvorsen) Lee are in bold.
(photo courtesy of http://www.etne.kommune.no/?cat=147990&folderid=62927)
TVEITO
Land Register No. 60, Tveito
In early documents the farm was most often called Tvedten, Tvedte or Tveite. However, both the pronunciation and the origin favor the form Tveito. Its is the dative bound plural form of a furrow or hollow. The individual who coined the name had probably noted the many grassy hills between the river and the steep mountain in the background.
Tveito Farm in June of 2015 when Kitty Cooper visited
In the past, Tveito belonged to the chapter, i.e. the clergy of the cathedral church at Bergen.The farm was under the personal control of the bishop. The old land rent owed to the landlord was 2 "laups" (unit of measurement = abt. 33 lbs.) of butter, 1 pelt and 1 "våg" (old unit of weight = abt. 39.5 lbs.) of corn. The equalization assessment listed the rent at 2-2/3 laups of butter. However, around the middle of the 1700's the rent was reduced to 1-1/3 laup. This was due to the heavy damage the farm had suffered at the turn of 1743-44. Some of the damage was perhaps older, but now violent rainstorms had led to floods and landslides. The Stordal river destroyed the grinding mill, and even worse damage was caused by the creek flowing through the land near the farmhouse. It spread over a large portion of the meadows and was followed by a big landslide, so that the farm "now looks more like a heap of stores impossible to clear away, rather than a usable farm unit." Half the farm had changed into a stone pile and the courtyard lay exposed to further avalanches. In 1747, the rent was cut in half. It did not seem, however, that the damage had a long-lasting effect on production - this can best be seen when comparing the tax rolls data from 1723 with the estate of Hallvard Torkjellson in 1759.
The farmyard and the partition of the farm, the last time in the 1600's, have been reported on before. The partition did not last long, since after 1700 both parts had been reunited. The accident of 1743 contributed to keeping Tveito as an undivided farm for a couple of generations.
The land register of 1667 describes the farmland and pastures as being of good quality. The grain seed was reported to consist of 6-1/2 tunner (1 tunne = 4 bushels) and the winter herd was composed of 2 horses, 24 cattle and 24 goats and sheep. "Uncertain for grain, firewood easily obtained and good hill pastures," it said in1723. Seeding is now fixed at 8 tunner of oats and the gross harvest at 37 tunner. This corresponds to a 4.6-fold yield. The farm can now winterfeed 4 horses, 29 cattleand 24 goats and sheep. It is interesting to compare these data with those mentioned in the estate.
The farm had a milking place for cows (in the mountains) half a mile away. The grain mill was located down at the Stordal river, and Björk also built a landing place here.
Operators
Tor, born1605, died ca. 1673 at Tveito,
He operated the farm from 1645. However, the foreman Halldor is mentioned as the operator until 1655, and after Tor's death, Tveito was again divided between his two children. Married to Eli, mentioned in 1645.
Children: a) Torkjell, b. 1643, d. 1716 at Tveito. b) Guri.
Torkjell Torsson, b. 1643 at Tveito, d. 1716 at Tveito,
took over the farm ca. 1673, but had to share itfor a long time with sister Guri and herhusband. The partition is described in detail on page 16 and in volume I, page 355. In 1701, we find Torkjell as the sole operator. He owned portions of the farms Vinja, Utbjoa and in Östhus and Bakka in Sauda. The estate of 6/5/1717 shows a very unusual wealth with 506 rdlr. (riksdaler = a silver coin worth 4 kroner) in household effects and 169 rdlr. in real property. Besides very interesting clothes and silverware, an 8-oar boat is mentioned (at Kyrping?), as well as a summer herd of 11cows, 17 heifers and calves, 50 sheep and goats, 2 pigs and 3 horses. We do not know how much of this was inherited, but Torkjell must certainly have been a capable man and have emerged as a leader of his parish in those difficult times around 1700.
Married to Ingeborg Hallvardsdotter, b. 1644, d. 1719 at Tveito. She was the widow of Sjur Pålsson Östhus/Svandal in Sauda.
Children: a) Eli b. 1675, d. 1741 at Ekrheim, b) Tor, b. 1677, d. 1723 at Vinja, c) Borgilla, b. 1680, d. 1737 at Öyno, d) Hallvard, b. 1682, d. 1759 at Tveito, e) Brita, b. 1687, d. 1735 at Lauareid.
3. Hallvard Torkjellsson, b. 1682 at Tveito, d. 1759 at Tveito. Inherited the farm and prosperity from his father in 1717. He soon started buying land, and he became part-owner of many farms: Vinja, Skjold, Öyno, Övernes, Flåte, Skjeldal, Berge - to name a few. The prices of land kept rising, however, and after a short while, Hallvard was ready to sell. In his old days he did away with almost everything; when he died, he only owned a share in Eikemo and a strip of woodland in Åkrafjorden. Within the parish he started lending out cash. The estate on 7/17/ 1759 shows total assets of 800 rdlr. 0f this amount abt. 220 rdlr. were loaned to people in Åkrafjorden,Etne and Indre Ryfylke. 204 rdlr. in cash were found on the bottom of the chest! The estate further lists a number of silverware and "Sunday" clothing, among which a "gold-plated box over 100 years old," an 8-oar boat and a boathouse, in the water and at Kyrping. Also mentioned are 7 tunner of seed grain and a summer herd of 4 horses, 3 pigs, 12 cows, 3 oxen, 9 heifers and calves, 46 sheep and 28 goats.
Married 1) in 1718 to Marta Torsdotter, b. 1694 at Vinja, d. 1731 at Tveito.
Children: a) Torkjell, b. 1719, d. 1793 at Vinja. b) Tor, b. 1722, d. 1763 at Erkheim. c) Tor, b. 1725, d. 1727. d) Ingeborg, b. 1730, d. 1730.
Married 2) in 1733 to Anna Gotskalksdotter, b 1713 at Skjold, d. 1784 at Tveito.
Children: e) Marta, b. 1734, d. 1810 at Övernes. f) Gotskalk, b. 1735, d. 1802 at Skjold. g) Tor, b. 1738, moved to Sandeid. h) Ola, b. 1740, moved to Sandeid (see Utstono). i) Johannes, b. 1742, moved to Ölen. j) Hallvard, b. 1744, d. 1814 at Grönstad. k) Ingeborg, b. 1747, d. 1799 at Silda. 1) Gotskalk, b. 1750, d. 1750. m) Gotskalk, b.l757, moved to Sandeid.
4. Kristen Gudmundsson, b. 1728 at Mo, d. 1801 at Tveito. Married the widow of Hallvard and leased the farm in 1761. The marriage made him rich enough to dabble a little in loans and trade, but the great days at Tveito were gone. Kristen did not achieve much in the life of the parish, which is perhaps illustrated by the fact that it was his tenant farmer, not he, who was called as a witness in the big mountain lawsuit between Öyno and Frette.
Married 1) in 1761 to Anna Gotskalksdotter f . 1713 at Skjold, d. 1784 at Tveito. No children.
Married 2) in 1735 to Ragnilla Halldorsdotter b. 1765 at Sande, d. 1806 at Tveito.
Children: a) Gudmund, b. 1787, d. 1846 at Tveito. b) Halldor, b. 1788, d. 1855 at Osvag. c) Anna f. 1790, d. 1869 at Övernes. d) Anna, b. 1793, moved to Bjelland in Skanevik. e) Guro, b. 1796, d. 1876 at Övernes. f) Kristen, b. 1797, d. 1797.
Tenant farmers
5. Ivar Nilsson lived here ca.1790. He and his wife moved out before 1801, probably to Åkrafjorden. Tne son stayed. Married in Åkra 1755 to Rosmunda Säbjörnsdotter. It was her second marriage. No children were born at Etne.
6. Hallvard Ivarsson, b. ca. 1750, d. 1828 at Tveito. He settled as tenant farmer near Tveito in 1787. The name of the place was Rössland. In 1791, he shot a bear during a hunt, but sold the skin before the next Tning (council of freemen), so he had to find a witness to collect the bounty of 2 rdlr. In 1803, it is recorded that he cultivated 4 tunner of grain and kept 2 cattle and 6 sheep.
Married in 1787 to Torbjörg Monsdotter b. 1749 at Rame, d. 1807 at Tveito. Children: a) Marta, b. 1788, d. 1788. b) Rosmunda, b. 1789. c) Marta, b. 1791.
Previous page:
Skjold farm as translated from Etnesoga II
Next page:
Tveito (Tvetden) Farm family lists from Etnesoga V