The Skjolds Who Stayed in Norway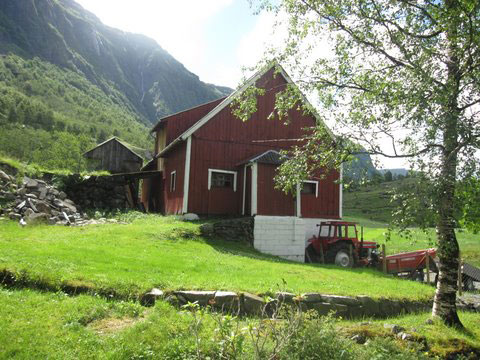 According to the local history book (Etne soga) the following Skjold family children stayed in Norway:
1. Amund Halvorsen Skjold (1834-1902). This is the older brother who helped HHLee and we are in touch with his descendants via the italicized line below. Married to Sonneva Sjoleite, Oino. Children:
Halvor Amundsen Skjold was married to 1) Martha Klovbrekke, Frette, 2) Britha Fosse. Child from first marriage: a) Severine. In second marriage: b) Martha, single, c) Amund Halvorsen, married to Sisilie Saetre, Bremne.s, d) Sigvald H. Skjold, Odda, married to Ingebjorg Digernes, e) Britha, married to Thorvald Stue, Alvik, f) Anna, single, g) Inga, married to Sigurd Tvedten

Odd Amundsen, residing at Skjold, married to Anna Tollefsdtr., Hovland at Etne. Children: 1) Alfred, 2) Severin, 3) Tollef, 4) Ingeborg, 5) Johannes, 6) Olga, c) Ingeborg Amundsdtr., died single, d) Martha, residing at Flate at Etne, daughter Gina married to Gunnar Olsen Flate.
3.
Oistein Halvorsen
. (1836-1902) Children:
Halvor 0., residing at Fjosne, went subsequently to America, died single,
Margrethe, married widower Endre Heggen, Olen. Children: a) Ingeborg, b) Endre, and probably more,
7.
Margrethe
, (b 1846) married to Gunnar Inbjoa. Children: 1) Gunnar and 2) a daughter.
8.
Halvard H. Skjold
, (b 1852?) shoemaker - at the seminary at Stord, son Andreas Haga, Stord,
 Click here for the full document that this information is from and click here to see photos of and read about our modern day Skjold cousins.
Previous page:
Other Skjold Immigrants to America
Next page:
Modern Day Norwegian Skjold Family