Jorgen Wold family from the Skogar History book
Jørgen Wold
Translated from the local history/farm books, Jørn Tørjevoll becomes our ancestor Jørgen Wold
---
Source: Folk og fàr, by Skoger historielag.
Plass 50: Tørjervollen. (Plass = the little farmhouse and field where the farmhand and his family lived).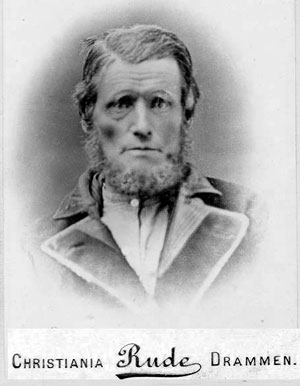 Tørjevollen - or Torgersvollen/Terjevoll as it also has been called is a very old place. It is situated towards south-east in Rønnehue hill. Today the place is overgrown and situated in an old foot-path half-way between Rønnehue and Stallane. Even today the path can be difficult to follow, but if one uses the road through the wood to Tørjevollsfråa, where Tryttjerbekken and Raubekken (two streams) meets, one can find the outline of the place 3-400 meters up in the hillside of Rønnehue hill. In the rapids of the stream below it was once an old saw(mill) "oppgangsag".
But, to return to the place Tørjevollen, which was situated in a sunny place in the steep ground. - here I skipped something written about the first people who lived here.-
-Therafter Jørn Tørjevoll lived there. His surname, he probably has got after he came here in about 1843. He was married to Anne, who had been in the service of Westby at the farm Søndre Imjelt. She was the sister of Jon and Per Stallane, and came from Landerud in Rollag (Buskerud). About Anne it is told when she moved to Tørjevollen, she had walked all the way from Rollag. Not only that, but she had been walking and knitting, and in addition she had carried a pot to boil "prim" or something like whey in (primgryte, made of cast iron).
About Jørn Tørjevollen it was said "he had got brains", and he had by himself learned how to write, and teached his children to write. Jørn had worked as a foreman by/with/for? Torkel Westby - also called Imjelten, and Jørn was then called Jørn "accurate or exact", not a bad nickname. Anne and Jørn had the following children, 5 girls and 4 boys: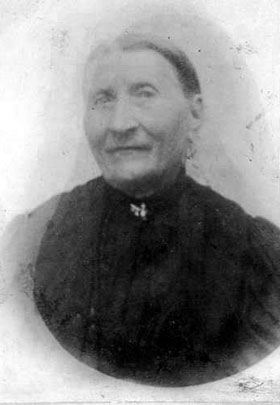 To emigrate to America was the alternative at that time, and in 1868 Jørn also went to America together with his children Maren, Birgitte, Sopie and Herman. At that time they travelled by sailships, and the voyage lasted for 7 weeks. It is told they brought with them something like rusks (skonrokk) for food (I belive that was common). While Jørn and the children lived in America, Anne worked as a dairy-maid at Vesle-Gravdal, but lived at Tørjevollen during the winter. In 1875 Anne also went to America (7 years after Jørn). In 1877-78 Jørn returned home, and a little after Anne also returned. They now lived at Tjørnevollen(I belive I must have written wrong name here) Tørjervollen until Jørn died in 1892. This is how the story is told, however unlikely it sounds. Anne then moved to her daugther Olava, who now lived at Stubberud. This was in 1901, later Anne lived at/with? Anna Stubberud. The last person who lived at Tørjevollen was the son Anton, who had returned from America. He lived there for a while.
---
Notes on the photos above of Jørgen and Anna Wold from Michael Wold-Steele: The Jorgen picture had to have been taken from 1870 to 1880 as that was when the Rude studio was in business in Drammen, so he must have had it taken when he returned from the USA. The photo is that of a Pin Hole camera, which was replaced with full size cameras after 1880.
translated for
source: Michael Wold-Steele
(descendant of Martinius)
Omaha, Ne
A.R.N. Networks
Previous page:
The Wold family from Skoger, near Drammen Norway
Next page:
Olava Wold