Tveito (Tvetden) Farm family lists from Etnesoga V
This document is from Lee Munson's research in Etne, Norway. It was translated from the entries about Tveito in the Etnesoga V farm book. It has been scanned in and and not all errors are yet corrected. Then dates and information added by looking at the Tveito entry in Etnesoga V. As usual the ancestors of Henry (Halvorsen) Lee are in bold.
For an account of Kitty's visit to Tveito in June 2015 read that story on her blog.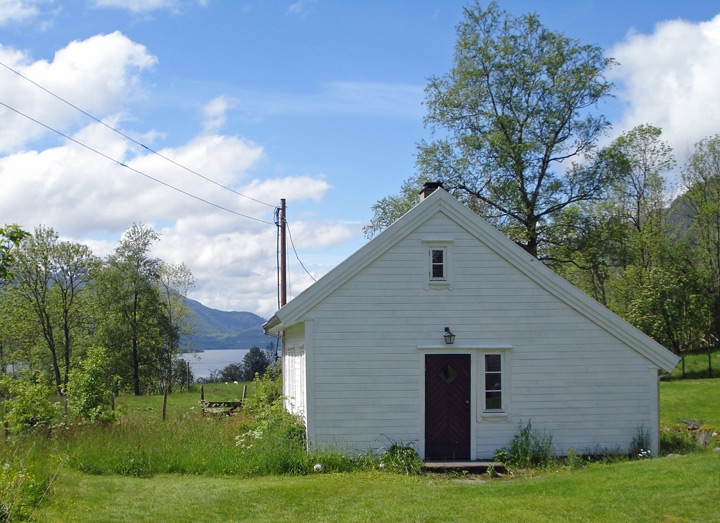 The farmhouse where Marta and Mette were born, first house with a second story in the area,
photo taken June 2015 by Kitty Cooper
The Tvedten - (Tveito) Family at Etne
XI. Åmund Bjørnson Tvedten (Ve) 1772 - 1842, moved to Tvedten at Etne and was living there in 1814. (number 3 in Tveito on page 120 in Etnesoaga V) In 1802 he married:
widow Ragnhild Halldorsdatter Tvedten, 1765-1806 Child of 1st marriage:

Metta, (see XII below) 1804-1879. went to America 1846 lived at Ytre Haaland [ed note: her descendants are our Holland cousins]
Kristin b. 1806 d. 1806

Anna Hansdtr. Frette at Etne. Children of 2nd marriage:

Ragnhild, married to Knud Eide, Ølen, Vindafjord, Hordaland, Children:

Anund Knudsen Duberg at blen, died single,
Kari, married to Tor Steffensen Nerheim, blen, a son in Bergen,
Knut(?) in America,
Brylla, married to shoemaker Andersalen, 1 son, shoemaker Andersen at blen,

Marta b 1810 (see XIV below)
Brita, born 1813,
Anna, 1815-1838 married to Peder Larsson Wiig. born 1818 på Vik i Fjeldberg, died 23 July 1904 from Fjeldbergsund. They moved to Innaes at Kleive i Romedal, where he was a merchant. Children:

Lars Larsen Vik, merchant and hotel owner at Naes,
Anna Larsdtr.,  married to Tor Havard Tholm, forvikbuRt, Nordmore. Children:

 Ttils Havardsholm, teacher in Oslo,
 Peder Havardshol-T, macininist, died in Antwerp,
Trygve Havardsholm, sailor,
 l~lart.T, married to `+ils Miy7.;lebust, director o: agricultural school,
Hilda Havardsholm, residing in Oslo,
Nanna Havardsholm, teacher of home economics in Oslo,
Alvhild in Oslo,
Aslaug in Oslo,

Peder Wiik, * 5 des 1855, † 17 feb 1932, yrke Skipper i Kristiansund. Children:

Ellen-Anna,
Lars Vik, lived on the farm Fagerlid,
Harald Wiik, * 1 jun 1890, † 25 mai 1967, yrke gårdbruker på Gimnes.

 Margrethe Amundsdatter, married to Peder Sjovangen, Fjeldberg, several children
Katrina   1821-1900 (see below),
Hans 1824 - 1842
Kristine, died single. 1828-1853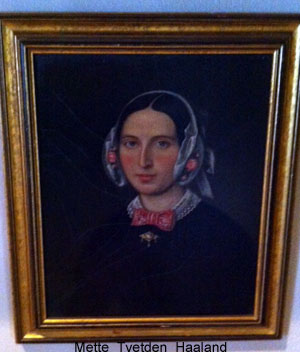 XII. Metta Amundsdtr. Ve, born ca. 1805, married to Syver (Sjur) Olsen Haaland at Etne. They went to America with nine children in 1846. Syver died on the way to Milwaukee, Wisconsin. The children spelled their name Holland. They were:
Ole Holland, farmer in Iowa,
Erik S. Holland, born in 1834, farrier in Kendall County, Illinois, married to 1) Johanne Chantland (Tjentland in Rrdal), died 1884, no children, 2) Christine Petterson from Skien. Children: 1) Randolph Holland born 1887, English teacher at St. Olaf College, married to Edith Berg, 2) Marie, born 1888, 3) Olga, born 1890, 4) Elmer, born 1893,
Bjorn S. Holland, born 1841, died 1930, teacher and farmer at Moscow, Wisconsin. He was one of the founders of the village Hollandale which started on his farm. Sat in the Wisconsin National Assembly,
Syver S. Holland, died 1884, teacher and farmer at Moscow, son Syver J. Holland at Madison, Wisconsin, died 1939, 66 years old,
Christen Holland, farmer at Moscow, justice of the peace,
Haldor S. Holland, died 1872, participated in the Civil War, lived in Iowa County, Wisconsin,
Amund S. Holland, in Iowa, son Sever A. Holland, born 1858, died 1934, lived in Thomson,
Svein, died in an accident, single,
Erik Amundsen, married to Sina Henriksdtr. Osnes, in America,
Gunnar Amundsen, married to Rasmusdtr. Frette, in America,
Rasmus Amundsen, married to Ingeborg Knutsdtr. Kaldestadbakken at Etne. Children: 1) Anna, 2) Knut, 3) Amund.
XIII. Hans Eriksen Tvedten, teacher and precentor at Sauda. Married to Ragnhild Aartun, Sauda. Child:
a. Jorun, married to teacher Kristen Arnestad from Nordfjord. Children: 1) Kari, 2) Ragnhild, 3) Kristine, 4) Britha, married to Olstein Birkeland, Sauda. Children: 1) Hanna, 2) Marie, 3) Johanne, 4) Ragnhild, 5) Aslaug, 6) Sigve, 7) Hans, 8) Eylaug, 9) Olstein,
c) Elicla, married to teacher Johannes Rougstad from Voss, Haga at Romerike, several children,
d) Anna, married to teacher Nils Eidhammer, Vats. Children: 1) Hakon, 2) Fritgof, 3) Torstein, 4) Nils, 5) Gertrud, 6) Kristine, 7) Solveig,
e) Torstein H. Tvedten, married to Miss Aga, in America, several children,
f) Laura, married to Halfdan Helr.ers, in America, 2 children.
XIII. g. Erik Tvedten, born 1856, died 1934, office manager in Stavanger. He was married to Ingeborg Abelsdtr. Boksnes, Kvinnherad, born 1871 (see Boksnes family). Children:
ErliTTg Tvedten, born 1891, died 1936, employee, single,
Abel Tvedten, b. 1892, manager of Rogaland County Power Plant, residing at Stavanger, married to Asgjerd Helliesen, Stavanger. Children: 1) Kari, 2) Ingeborg, 3) Ole,
Sigurd Tvedten, b. 1893, reapportioning surveyor in SUnnhordland, residing at Etne, married to Inga Halvorsdtr , Skjold. Children: 1) Erik, 2) Harald, 3) Synnove,
Inge Tvedten, born 1895, died 1933, dentist in Stavanger, married to Gudrun Lono.
Children: 1) Inge, 2) Gunnar,
Ragnvald Tvedren, born 1897, mate in Bergen, married to Fredrikke Buchholtz. Children: l) Erik, 2) Henrik,
Arnold Tvedten, born 1900, died 1933, employee in Stavanger, married to Bergljot Pedersen, son Fredrik,
Synnove Tvedten, born 1906, employee in Stavanger, single.
was married to Halvor Gotskalksen, Skjold at Etne. Children:
Anna Halvorsdtr., senior , b 1832 m Lars Stephensen Fjaere went to America, took surname Stevensen [ed note: we are in touch with her descendants in Illinois, Dr Craig Stevenson]
Aamund 1834-1902 (see below)
Oistein Halvorsen. 1836-1906 farm Osnes Children:

Halvor 0., residing at Fjosne, went subsequently to America, died single,
Margrethe, married widower Endre Heggen, Olen. Children: a) Ingeborg, b) Endre, and probably more,

Gotskalk, b 1839 went to America,
Hans 1841-1843
Anna, junior, 1843-1928 went to America, married John H. Thompson
Margrethe, b 1846 married to Gunnar Inbjoa. [ed note: we are in touch with the descendants of her son, Hans Martin Gundersen who came to work for Dadda] Children: 1) Gunnar and 2) a daughter.
Hans Halvorsen Skjold 1849-1931 (known as Dada to his family), went to America, where he calls himself Hans Lee, married twice, several children,
Halvard H. Skjold, b 1852 shoemaker - at the seminary at Stord, son Andreas Haga, Stord,
XV. Amund Halvorsen Skjold, married to Sonneva Sjoleite, Oino. Children: a) Halvor, (see below) b) Odd Amundsen, residing at Skjold, married to Anna Tollefsdtr., Hovland at Etne. Children: 1) Alfred, 2) Severin, 3) Tollef, 4) Ingeborg, 5) Johannes, 6) Olga, c) Ingeborg Amundsdtr., died single, d) Martha, residing at Flate at Etne, daughter Gina married to Gunnar Olsen Flate.
XVI. Halvor Amundsen Skjold was married to 1) Martha Klovbrekke, Frette, 2) Britha Fosse. Child from first marriage: a) Severine. In second mtrriage: b) Martha, single, c) Amund Halvorsen, married to Sisilie Saetre, Bremne.s, d) Sigvald H. Skjold, Odda, mtrried to Ingebjorg Digernes, e) Britha, married to Thorvald Stue, Alvik, f) Anna, single, g) Inga, married to Sigurd Tvedten (see above).
XVII. Katrine Amundsdtr. Tvedten, was married to Osmund Thorsen Ekrheim at Etne. Child: Anna, married to 1) Mads Rygg, residing at Skjeldal at Etne, 2) Hakon Ellingsen. Of the 2nd marriage, no children. Child of the 1st marriage:
Severine, single.
Amund Osmundsen Ekrheim, married to Lisbeth Pedersdtr. Fosse. Children:

Osmund Amundsen, born ca. 1887, married to Martine Larsdtr. Kambo in America,
Peder, born ca. 1888, in America, single,
Katrine, born 1889, single, Ekreim,
Sigrid, born 1891, in America, single,
Villum,
Tor, twins, born 1893, single, at Etne,
Ole, born 1895, Ekreim, single,

Britha Osmundsdtr., married to widower Jone Vae, residing at Rygg. Children: 1) Barbro, married to farmer Hans O. Slettebo, Egersund parish, 6 children, 3) Anna, died 1929, married to Th. Kaada, merchant at Olen, later at Jorpeland, 8 children,
Osmund Ekrheim, born 1859, died 1941, merchant, hotel owner and steamships' agent at Olen. Married to Anna Olsen from Haugesund. Children: 1) Toralf Ekrheim, merchant and steamships' agent at Olen, married to Bertha Haraldseid, Skjold, 2 boys, 2) Anna, married to Johannes Hovda, farmer at Randoy in Fister, 5 children, 3) Olav Ekrheim, married to Helga Sverdrup, both teachers in Stavanger, childless, 4) Kasper Ekrheim, wholesaler in Oslo, married to Inger Byhre-Hansen, Oslo, 1 boy, 5) Katrine Ekrheim, telephone operator at Olen, 6) Agnes, married to Olav Kaspar Chsitiansen, baker at Olen, 2 children, 7) SirPon Ekrheim, merchant at Olen, married to Anna Lunde, Olen, 5 children, 8) Erling Ekrheim, department .....
Previous page:
Tveito Farm from Etnesoga II
Next page:
Frette Farm, Etnesoga II pp 426-428 translated